Camee Comperen
Managing Assistant
Camee has always had a deep inspiration to make education more holistic and to create more space in society for deeper connection, this inspiration founded in the ten years she spent as a Waldorf student. Through her involvement in a youth council in 2016, she got involved with the youth team of the Learning for Wellbeing foundation and in 2019 she started as managing assistant. 
Camee grew up in a small village in the South of the Netherlands with her parents and two little sisters. During her primary and secondary education in a Waldorf school, she experienced an education system that allowed the child to develop their inner diversity. This experience planted the seed for her interest in education, politics, philosophy and the creation of meaningful relationships. She is currently living in Amsterdam where she is studying political science and philosophy. 
Camee is mainly involved with supporting Daniel with his work in the foundation, the operational side of ACT2gether and the development of ACT2gether in the Netherlands. Send an email to Camee
L4WB-Fellows & Associates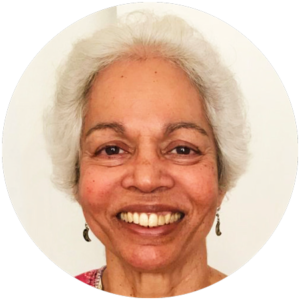 Shanti George
Senior Associate: Developing networks
Shanti George is a social anthropologist trained in India and now based in the Netherlands. She has taught at universities on three continents and has worked with foundations on a similar scale. Her five books and many articles have been translated into various languages. She is currently an honorary professor at the School of Education and Lifelong Learning at Aberystwyth University in Wales.
Shanti's work with the L4WB-Foundation enables her to bridge the worlds of knowledge, practice activism and philanthropy. Around L4WB's central theme of competent partnerships between children, young people and adults. Send an email to Shanti