ACT2gether
ACT2gether aims to create a social movement promoting partnership between children and adults across sectors in order to create a fair and sustainable world
The initiative involves three strands of activity:
2getherLAND: Gatherings for all ages to play with the serious challenges in our world today
2getherLEARN: Training and resources that help children and adults to be better partners
2getherLINK: Alliances and success stories of intergenerational partnership, both off-line and on-line.
Associated activities are spearheaded by the Learning for Well-being Foundation at international level, and by its strategic partners at national and local levels.
ACT2gether was born from out of what we learned of co-hosting Children as Actors Transforming Society (C.A.T.S.) *, an annual event dedicated to children's participation for children and adults from all over the world. After 6 editions, the foundation wanted to explore ways in which it could encourage others to engage children in decision-making and unleash the transformative power of working together across generations.
*in partnership with the Initiatives of Change France and Initiatives of Change Switzerland
2getherLAND goes ONLINE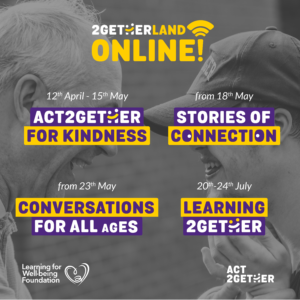 2getherLAND Online is a  campaign to promote partnership between children and adults for fairness and sustainability using different social media and virtual platforms in order to overcome  physical distancing and still create together.
In this campaign we aim to share the opinions, needs, feelings and ideas of children and adults from all ages on the current world situation. We also aim to nurture the development of the ACT2gether community, to build a platform where people can inspire and be inspired in order to ACT2gether. We have four strands to build the online community. 
ACTS OF KINDNESS 
This was the first strand of the campaign and we have shared a series of challenges and suggestions for activities to inspire and connect people from different generations to take action together at home and online. In the difficult situation our world is facing at the moment, we try to spread small acts of kindness. 
STORIES OF CONNECTION  
In this strand of the campaign we  shared stories of partnership and connection between generations. We shared stories of children and adults that ACT2gether towards a more fair and sustainable world. We hope that these stories are a source of inspiration and motivation for children and adults across the world! 
CONVERSATIONS FOR ALL AGES 
In the third strand of the campaign, we will organize a series of facilitated online conversations between children and adults, from different regions of the world, about the issues that are dividing and connecting different generations. These conversations will be hosted by our intergenerational team. 
LEARNING 2GETHER 
In the last strand of the campaign we will host an online 2getherLAND! This will be a series of video tutorials, workshops, and webinars to help develop the skills of children and adults to plan, decide, communicate and ACT2gether. We will organize powerful activities and virtual gatherings led by our 2GETHERLAND community to share knowledge in many creative  ways.
For more information, click here 
2getherLEARN
We Are Here. — A Child Participation Toolbox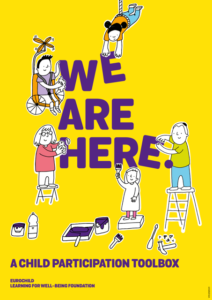 The Learning for Well-being Foundation and Eurochild have published a toolbox that offers practical activities to help children, and adults who support them, preparing for roles as participants, representatives and facilitators, in events where children and adults work together for the improvement of their communities.
The publication entitled "We Are Here. – A child participation Toolbox" combines a rights and well-being perspective on children's participation and promotes a partnership approach, highlighting the contributions of both children and adults in the process.
The activities in the Toolbox have been developed by the two organisations based on their long-term collaboration in supporting children in international events over the past few years. Eurochild's Children's Council were involved in developing and piloting several of the activities.
The publication is available online for free in both Eurochild and the Learning for Well-being's websites.
And let us know what you think at info@learningforwellbeing.org