Fighting social inequality in Germany with an intergenerational approach was the core theme of the second 2getherLAND camp, organised by Bertelsmann Stiftung and its partners in May this year. More than 170 children, teenagers and adults came together for a week at a remote lake camp close to Berlin. The main goal: Discussing fair opportunities for young people, and developing solutions.
Besides the many great experiences, newfound friends and engaging workshops, another number had a special meaning for the 2getherLAND: 0—positive COVID cases! A huge relief as this second 2getherLAND was postponed from 2019due to the COVID-19 pandemic.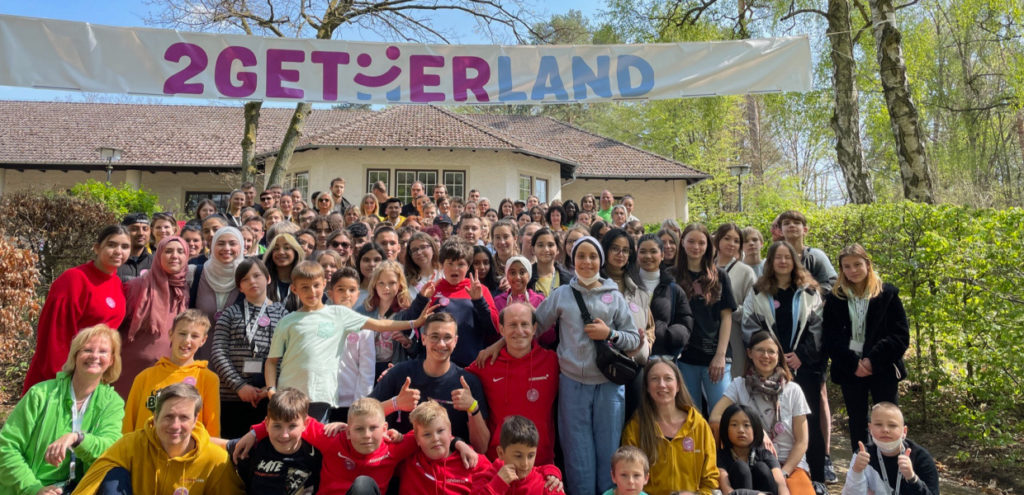 A holistic workshop concept: facts, experiences, emotions, and social skills
During this year's 2getherLAND, over 45 workshops were offered on these four topics:
Needs of children & youth
Participation and co-creation
Living together in our diverse world
The school of the future. 
These categories opened the room for an intergenerational exchange about social equality, discrimination, and possible solutions – always based on facts and own experiences.
Young people organised most workshops. The Youth Expert Team (JET) planned and held many of them, sometimes accompanied by employees of the Bertelsmann Stiftung or project partners. This resulted in a unique and trustful atmosphere in every workshop, where participants could talk openly, thoughtfully, and equally about their experiences.
Taking home the spirit of ACT2gether
Many recreational activities accompanied the workshop program. Some, such as dance classes, painting, or homework tutoring, were offered by teenagers, and experiential educators offered others, such as self-defence, slackline, and other group activities. They all endorsed feelings of trust and belonging. And, of course, fun, and exciting offers such as the cinema, disco and talent night created highlights for every person joining the event.
Some participants exchanged bedtime letters using the "bedtime post" and found friends from other parts of Germany and of different ages. They also took something else back to their hometowns all over Germany: Six outstanding follow-up projects were created at the camp and continued by the councils after returning home. This way, they want to ensure fair opportunities for young people in their localities in creative ways.