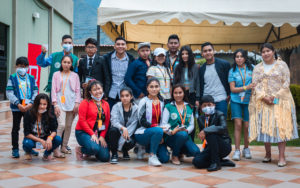 After two years of effort, we can celebrate this achievement! Last December, the Plurinational Committee for Children and Adolescents in Bolivia was formed. It is the highest form of representation of children at a national level. Having this means opening spaces for participation and activism for children and adolescents at every level of decision-making and opens important doors for intergenerational partnerships in creating public policies.
Over two days, participants from all over the country met and participated in a 2getherland experience. They had the opportunity to get to know each other, themselves, understand how they function, review and discuss the current state  of the rights of children and adolescents, the post covid situation in the country, and reflect on their personal and collective roles concerning child participation and partnership between generations. 
Through this process, the participants were able to express their dreams and projects:
'We dream (of a world) where authorities and adults value our talents and goals so that we can partner and carry out projects in favor of children and adolescents. Furthermore, we hope to get support to facilitate communities and societies that respect Children's rights,' expressed Raquel, vice-president of the Plurinational Committee.
Among other projects, there are:
Respect for the rights of children and adolescents

Information, accessible to all

Quality and accessibility to health care for all children and adolescents

Respect the right of Education and re-imagine a more just post covid education

Reduce the digital and technology gap

Respect and care for the environmental diversity of Bolivia

Safe spaces for children and adolescents participation 

Inclusive participation for all sectors of childhood

Intergenerational partnerships with authorities, parents, and the community to create public policies in favor of children

Real data on violence against children and adolescents in Bolivia
The Committee has 18 members, each with a different role and responsibilities, representing equally men and women and all departments of Bolivia. Susan, president of the Plurinational Committee, thinks that 'It is time to work together for the country we all want, girls, boys, adolescents, and adults. Today, each one of us is a leader of their department. We must all work together to carry out social projects and public policies that can contribute to the well-being of children and adolescents with the support of governmental and non-governmental institutions. Being a team must be our priority.'
This work was carried out thanks to the joint efforts of the Bolivian Government, with the support of UNICEF Bolivia and Act2gether Latin America.