Palestine
ACT2gether Palestine: starting 2022 with enthusiasm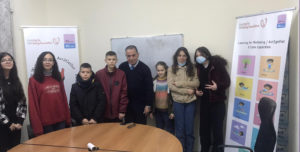 A2G Palestine and its advisory children group started the new year with activism and enthusiasm. Their main hope for 2022 is to have a year full of activities focused on reducing the gaps between generations, raising the voice of children, and involving them in decision-making on topics that affect them. 
During the past month, the team held three meetings to discuss and plan their upcoming actions, exploring how to start peer-to-peer education targeting children's clubs and schools.
One stimulating activity the children developed was expressing their opinions on promoting intergenerational relations through drawings. Some of the depicted ideas showed the importance of having love, cooperation, trust, and encouragement between different generations. After the exercise, the children wanted to share these visions with their friends and teachers at school, so they went out to do it with the team and their parents' support.
We are looking forward to hearing more about their accomplishments!
Germany
2getherLAND-Camp 2022 in sight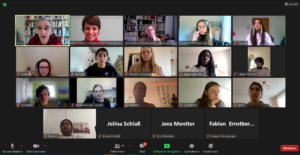 The planning process for the German 2GETHERLAND-camp, which will take place during the first week of May, is in full swing. 
In January, the German Youth-Expert-Team (YET) gathered online to work on the content of the camp workshops. Previously, through a broad participatory process between YET and partners and colleagues from the Bertelsmann Foundation, they had defined four fields of content to address during the camp:
– A: Needs of children & young people
– B: Participation
– C: Living together in our diverse world
– D: The school of the future
In every area, the camp participants will have the opportunity to share their individual experiences gained at school and in their leisure time; next, participants will create projects to develop in their hometowns after the camp. Over the following weeks, the team plans to refine the workshop, working together with partners and colleagues.
The planning process of the workshops on skills, creativity, and relaxation time will also start soon. Furthermore, the coordination team in Gütersloh is spending a lot of energy and thoughts on the corona-protection measures and the integration of the final days of Ramadan in the definitive schedule to make the camp inclusive for Muslim kids. 
We are looking forward to the camp with high enthusiasm and joy! 
The Netherlands  
Youth, power and change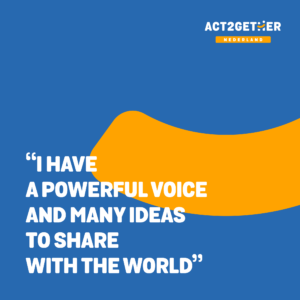 ACT2gether Netherlands started its activities with a  workshop on Empowerment and Leadership for young people between 16-21 years old.
The workshop was held on the t 2nd of February through a Zoom session. Facilitators from the Learning for Well-being Foundation team, with different backgrounds and from various countries, joined to share their experience and knowledge with a group of XX young people. The main focus was on how to bring each one's unique potential for leadership to become a changemaker in these challenging times.
ACT2gether Netherlands is also preparing a first information session about the A2G Netherlands Youth Team, to be formed in the upcoming months.
Stay tuned for further news and activities!