On September the 30th, we held a meeting with the Learning for Well-Being Foundation family to talk about something that touches our hearts and drives us to work for a better society: CORE CAPACITIES.
The meeting took about two hours, including more than 40 people committed to reconnecting despite digital times. The discussion of our gathering led us to question how we incorporate core capacities in our daily activities (with our peers, community and jobs) and how we can adapt these notions and practices to environments with greater vulnerability or diverse cultures around the world.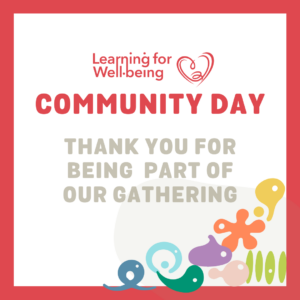 Also, Dominic Richardson (from UNICEF) held a conversation with Luis M. Pinto (from L4WB) on the research and its implications in the relationships between adults and children. These reflections are part of a research conducted with the UNICEF Office of Research – Innocenti and The Fetzer Institute that will be presented publicly in December.
Some of these discussions and reflections are part of a study conducted with UNICEF that will be presented publicly in December.
Stay tuned for more information.