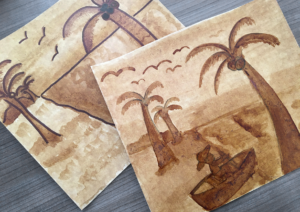 The 'Art Sessions' were created to allow all ages to come together to do something fun, learn something new, and most importantly, reconnect in times of isolation. In 2021, ACT2gether ran four successful editions from painting like Mondrian to writing poetry.
This year, reality has changed; as some countries have returned  to in-person classes and activities the team wondered whether it was possible to continue with the art activities. However, children and young people from ACT2gether Palestine showed a lot of interest in giving continuity to these sessions and gave the team the green flag to go ahead and plan the next online meeting.
The first online art session of 2022, 'Painting with coffee,'  took place last month with the participation of the artist Toubie Jack as a facilitator. Children and adults from different parts of the world joined and spent quality time relaxing, sharing thoughts and laughs with people from different backgrounds, and learnt painting techniques using basic materials like instant coffee, a piece of cardboard, and some brushes.
Everyone enjoyed the experience and is looking forward to participating in the next session: 'Painting with spices,' scheduled for the fourth week of March. More details will be shared on A2G's social media soon. 
Everybody is welcome to join! You just need enthusiasm, and some materials you can find in your kitchen to have a good time, let your imagination fly, and create a piece of art.
For more information, please contact: arshad97@hotmail.co.uk