Since 2019, The Learning for Well-Being Foundation, the European Council of Steiner Waldorf Education (ECSWE) and the Hungarian Waldorf Federation took the challenge to work on the project "Personalised and Formative Assessment Practices Supporting School and Learner Development" as part of the Erasmus + Programme. The project aims to collect at least 15-20 practices on innovative and formative assessment methods. The guiding question throughout the project has been: How can the unfolding of the unique potential of every child/youngster be best supported through contextualised, individualised, participatory assessment processes that give learners a feeling of agency and self-efficacy?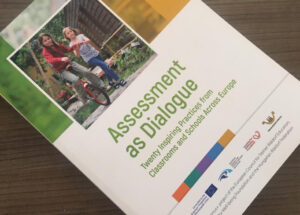 The last QoC Talk, part of Lifelong Learning Week hosted by the Lifelong Learning Platform (LLLWeek), was also dedicated to showing the results of these years and presenting the book titled "Assessment as Dialogue: Twenty inspiring practices from classrooms and schools around Europe." A strong message of hope from this book is that change is not only possible, but it has already happened in classrooms and schools. Some examples are depicted in twenty stories from twelve diverse European countries, and many other stories are still waiting to be told. In these schools, children experience formal learning as building naturally on their innate desire and ability to learn. The book offers readers some essential elements of 'Assessment as Dialogue,' from the first step into primary school to the final step out of secondary school. The organisations behind the book hold that this is a personal and collective journey whereby each child — addressed as a whole person — should realise the unique potential in terms of valued inner diversity.
The QoC Talk had exciting discussions around a better understanding of the Quality of Childhood in the EU Member States, reflecting on the European institutions' role to improve the situation and form an influential working group to get a sense of moving on. On that matter, The Learning for Well-being Foundation brought different strengths and networks to identify additional 'inspiring stories of change.' One was the International Step by Step Association (ISSA) focuses on high-quality inclusive early
childhood education and care, and the other was NIVOZ, a reputed think tank in the Netherlands oriented towards progressive and sensitive pedagogy in schools. In addition, NIVOZ and L4WB-F had co-organised the Unfolding Symposium in 2017 that featured exemplary practice from classrooms and schools around the Netherlands, and certain schools and professionals highlighted there contributed their innovative assessment practices.
Download the book here.
If you have any further questions, please send a mail to chiara.piccolo@allianceforchildhood.eu