Working group on the quality of childhood: 'OECD's International Early Learning and Child Well-being Study (IELS). Is this the way forward for the EU?'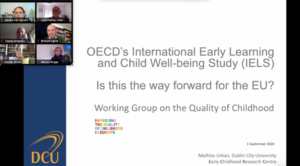 The presentation at our last Qoc meeting has been given by Professor Dr. Mathias Urban, who holds the Desmond Chair of Early Childhood Education at Dublin City University.  He presented the 'OECD's International Early Learning and Child Well-being Study (IELS). Is this the way forward for the EU?'   
The talk was followed by a group discussion on how children's well-being, centrally important to the Learning for Well-being Foundation, is threatened by standardized testing even among five year olds, as with the IELS criticized by Mathias Urban.
Such 'testology' ignores the rich complexity and diversity within the different contexts where children spend their earliest years.  The speaker and audience argued instead for holistic approaches to children's learning processes that address basic inequalities.
The Learning for Well-being Foundation has long supported Mathias Urban's plea for early childhood to be governed by competent systems , and we complement this with nurturing grassroots initiatives for sensitive assessment
[click here to know more].