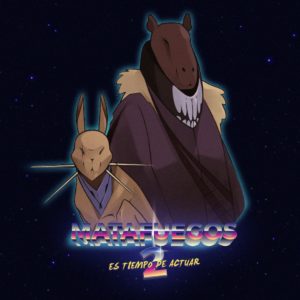 Matafuegos is an animated series created in 2020 aimed at raising awareness among teenagers and young people on the impact of forest fires. It also tackles several environmental issues that challenge our societies by sharing preventive actions and valuable information to encourage people to take a more active role in a very innovative way.
The series stars Capibara and Vizcacha – are very representative Bolivian animals. Capi and Viz live in a post-apocalyptic future, where their home, family, and friends no longer exist due to the fires that destroyed everything. Now, they're back from the future in search of justice.
The second season was released this year alongside an intergenerational educational process. One hundred volunteers from all over the country worked during five weeks in interactive sessions, addressing different topics related to current environmental challenges. Their purpose is to generate concrete and sustainable projects and proposals to face the challenging context our planet faces.
This is the first time that Act2gether in Bolivia has actively participated in producing an animated series linked to an intergenerational process that impacts communities all around Bolivia.
If you want to see this incredible animation and more of the pedagogical process, you can follow their Facebook page:
https://www.facebook.com/matafuegosbo
This extraordinary project is carried out in partnership between La Casa de la Televisión Inteligente, PICA, and Act2gether Latin America.